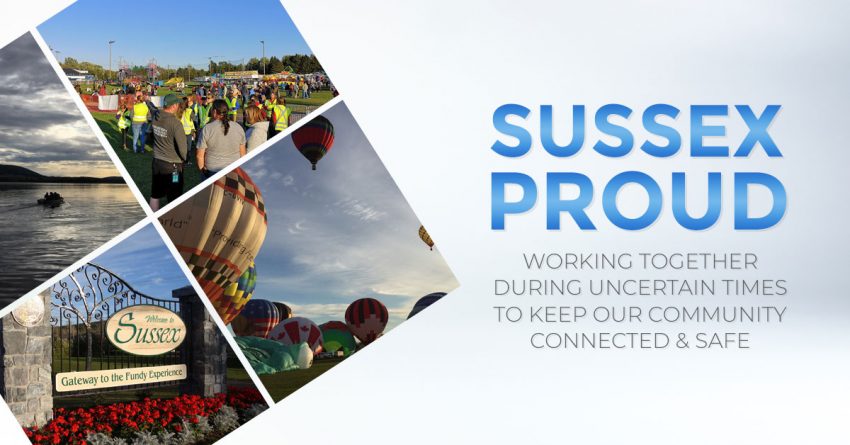 Sussex Proud
All of the staff at 590 CJCW are proud to be working alongside our business partners and community to help in any way during this uncertain time.
Long's Small Engine Repair
Long's Small Engine Repair is here for you during these challenging weeks. If you have a piece of equipment, whether it be a lawnmower, chainsaw, etc. just call their store, let them know you're coming, and drop it off at their front door for safe distancing. Or, if you are self isolating, call them and they'll safely pick it up at your property. Once your equipment is repaired, and before you pick it up, your hand held equipment is wiped down and sanitized for safe pickup. Just call Longs Small Engine Repair at 433.14.98
Steve Downey and Associates IG Wealth Management
During the Covid 19 threat, Steve Downey and Associates are still looking after your investment and planning needs. Call them at 639.32.77 and they'll make arrangements to call you back with any inquiries you might have If it's a financial investment question, or an investment transaction IG Wealth Management can make arrangements for that as well without your or your family having to leave the safety of your home. If you must use a cheque method of payment Steve Downey & Associates can make safe arrangements as well to have this safely done as well. Call them, 639.32.77.
Superstore
During the Covid 19 threat, Superstore, in keeping you and your family safe will take your grocery order online, along with payment. You can designate someone to pick up your groceries, or, use Sussex Delivery Service to bring right to your door. Safe and Secure. Just log on to your Sussex Superstore Website and follow the links.
Downey Ford
The staff & Management of Downey Ford Sussex wants their friends and family to stay extra safe during the Covid 19 threat. They remind everyone that their Service Department is still operating.
Just call in advance to have your vehicle serviced. To keep you and their staff safe, the doors are locked, however, there is a key drop box at the back of the building where the service doors are. Again, just call in advance to set up an appointment at 433-9000. Downey Ford Sussex. 15-75 Riverview Drive East.
Techxperts
Safety is of the utmost importance. Social distancing is paramount at their store. So only one person allowed in the store at a time. You can call in advance or, stop by their store. Once your computer or device is repaired, it's then sanitized before it's returned to the customer. They're also your personal laptop center too if your current computer is not doing the job now-a-days. Call Techxperts if you have any questions at 432.0688. or stop by at 846 Main Street Sussex.
Norrad Chrysler
For the safety of you and their employees, Norrad Chrysler's Service Department and Parts Department are operating on an appointment basis. Call in advance for an Appointment Monday to Friday 8 till 5. Drop offs and picks are available.
Moffetts Hardware
At Moffett's Hardware, the safety of their valued customers and their staff is of prime importance. Even though Moffett's Doors are locked, just knock on the Main front door for purchases and service. You can call in advance too. Moffett's Hardware, Broad Street.
DQ
At DQ Grill n Chill, even though their Dining room is closed, the Drive-Thru is still serving their many valued customers. Sanitizing is of utmost importance!…so, DQ Grill n Chill is Wiping down debit machines and more after each customer transaction, so you can feel rest assured in keeping you, your family, and their employees safe as you enjoy their many varieties of their delicious DQ Grill n Chill menu items.
Canadian Tire
Canadian Tire Sussex their #1 goal is your safety and the safety of their employees. Since Browsing is discouraged for obvious reasons look for a staff member to direct you to the proper aisle so you can safely select the item you're looking for. Quick in and quickly out with your purchase. Also, for your safety and the safety of their employees, you'll notice Plexiglass partitions for keeping you and cashiers separated.
Ledgers Accounting
Ledgers Accounting is still here to expertly prepare your tax returns. Even though the office location is closed they're still busily getting on with preparing Tax Returns and more. Drop off and pick up is available. Just call ahead.
The Grape d'Vine Sussex
Closed, but Customers can still call with questions. The Grape D'Vine Sussex at 433.6173 or visit them on Facebook.
Hall Brothers
Your Kabota Dealer is Open with locked doors. Even though, for safety reasons, their not open to the public, Hall Brothers is still doing Deliveries at your curbside or left outside The Hall brothers store for pick up. In the meantime stay safe!
King's County Computer Repair
King's County Computer Repair is Open to customers. For safety reasons only one customer allowed in instore at a time. Just call ahead for repairs or purchases. Kings County Computer Repair, Lowell Street Sussex.
Sussex Rent-all
Sussex Rent-all for your safey only one is allow in shop at a time, with sanitizing after each customer. Sussex Rent-all is also still doing delivery service! Just call in advance.
Goold's Flowers
At Goold's Flowers, in these challenging times, how do you touch someone without physically touching someone. With a colorful-love-filled Goold's Spring Floral Bouquet! Order for safe Curbside Pick-up, or, safe no contact Delivery! Just call Goold's Flowers in advance! 432.10.10.
Sharp's Drugstore
As we work through this pandemic together, in order to keep you our patients and our staff safe, Sharp's Corner Drug Store will temporarily be reducing store hours as of Monday April 6th to the following.
Monday : 9 am – 9 pm
Tuesday to Friday : 9 am -6 pm
Saturday : 9-5 pm
Sunday : Closed ( Emergency service available)
Please be assured that Sharp's is here to serve you and are always available by phone. They encourage you to call your prescription refills in to reduce wait time in store.
Sharp's Drug Store continues to offer pick up and drop off delivery service daily.
Thank you all for your patience, Sharp's Drug Store truly appreciates your support.
Kingswood University
Kingswood University is proud to support the front-line workers in our community. Our Counselling Centre is open and our friendly counsellors are available to help individuals struggling with mental health issues during these challenging times. Visit kingswood.edu to make an appointment.
Morris Music
Morris Music 590 Main Street is still serving all your musical needs. Besides their Quality brand name musical instruments from Guitars to keyboards and much, much more, Morris Music is also here for all your accessory needs too!… Whether it guitar strings, pick's, speaker cords, etc.
Just call them in advance at 433-5556 for curbside pick-up, or, visit them on Facebook! Morris music, 590 Main Street. Stay Safe!
Tremtech Electrical Systems
Tremtech Electrical Systems, your experts in home, business, and industrial electrical contracting, along with security systems, are still here to service you during these challenging times. Feel free to call to them today at 432.64.12. Tremtech Electrical Systems, 8 Turner Court, Sussex.
Sussex Excavators
Sussex Excavators, Leonard Drive, and here to help you with all your excavating requirements. Just call them to discuss any service you may need. 433.2288, or email them at sussexexcavators@nb.aibn.com
Sussex Bake Shop
Sussex Bake Shop is here for all your baking needs during these exceptional times. Safe distancing with only 2 people allowed in store at once. Operating 9:30 til 4:30, Tuesday to Friday. Sussex Bake Shop, 6-54 Main Street in Baird's Plaza.
Adair's Wilderness Lodge
Adair's Wilderness Lodge is re-opened again, with safe distancing in place. Take a nice drive and getaway to Adair's Wilderness Lodge with your family and enjoy a delicious meal from their restaurant, or, spend a nite at the lodge.